MotiveWave  is a well-established developer of easy-to-use full-featured charting, analysis and trading software built for the individual trader. MotiveWave has very advanced charting and drawing tools that are highly customizable and yet still easy-to-use, and also specializes in advanced analysis tools. MotiveWave has a product to fit any budget and trading style and is available for Windows and Mac.
To view more available platforms provided by Edge Clear, please click here.
Trading
Trade directly from Chart or DOM. MotiveWave now support the Market By Order (MBO) feed on Rithmic which provides a lot of detail on what other participants are doing in the market with their orders. The DOM panel displays bid and ask sizes beyond the best bid/ask in a tabular format. Orders can be placed and managed directly from the DOM and current profit/loss of open positions are displayed for each price level.
Custom Instruments
Use custom instruments in MotiveWave to combine the historical and real-time prices of 2 or more instruments to create:
Spreads – Displays the difference (spread) between two instruments.
Ratios – Displays the ratio between two instruments by dividing the price of one instrument by the other.
Index – Combine the prices of two or more instruments to create your own basket. This can be useful to monitor your own stock portfolio.

MotiveWave has the most advanced Elliott Wave Software and Elliott Wave Tools available. Elliott Wave Tools range from manual to semi-automatic to automatic Elliott Wave to suit your preference. Elliott Wave labels are always automatically added for you, cutting down your analysis time significantly.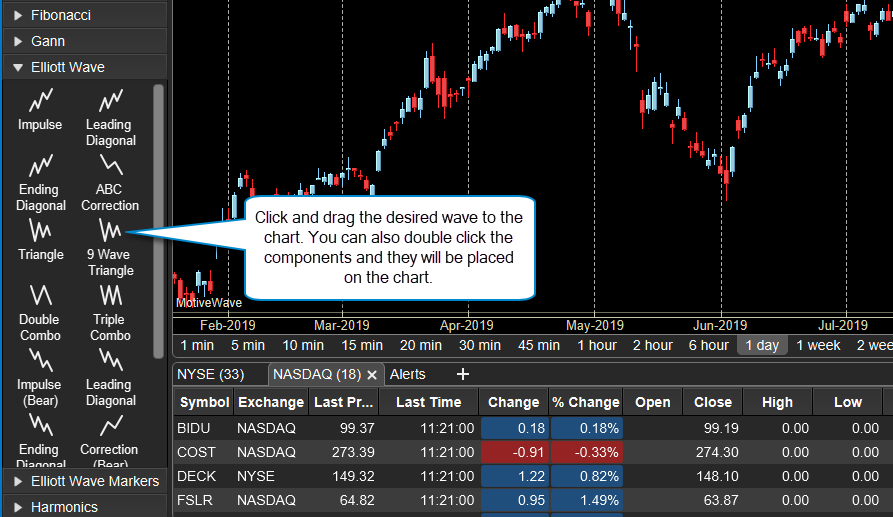 Strategies
Strategies may be used to fully or partially automate your trading. MotiveWave comes with over 30 strategies out of the box and you can create your own strategies using our Java SDK. Source code for our existing strategies can be made available upon request.